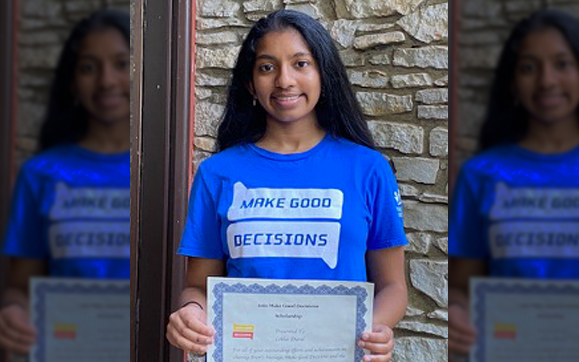 Lekha Durai is one of the scholarship winners for the work she has done in promoting Make Good Decisions at West Lafayette Junior/Senior High School. Lekha was the vice president of her school's drug awareness club REACH, and through this club she created several events to promote Make Good Decisions and the Indiana Lifeline Law. One event that she promoted Make Good Decisions and the Lifeline Law at was an ice cream fundraiser at the school's homecoming football game. This is a yearly event that REACH puts on, but she altered the event to bring awareness to underage drinking. Lekha designed stickers advertising the Lifeline Law to place on the ice cream cups. Additionally, the first 40 buyers received Make Good Decisions wristbands. When kids and teenagers bought ice cream they also received candy if they could explain the Indiana Lifeline Law; the law was also explained to those who were unfamiliar with its purpose and function. 
Another way in which Lekha worked to promote Make Good Decisions and the Lifeline Law was through presentations given to eighth grade students. REACH members attended three health classes and taught the students about various topics including vaping, underage drinking, and marijuana usage. Lekha specifically created the slides used to teach the students about the Indiana Lifeline Law. This section of the presentation was taught subsequently with the presentation on underage drinking because of the relation between the two. Lekha made sure to include various aspects pertaining to the Lifeline Law in the slides she created. She made sure to explain how the Lifeline Law works and emphasized that underage drinkers will be protected if they cooperate. REACH educated the students on the dangers of underage drinking, but also wanted to make sure that if any of them were in such a situation that they would understand how the Lifeline Law works so they could stay safe. She also made sure to mention how the Lifeline Law can be used to protect victims of certain sexual crimes. To showcase how the law functions in real situations Lekha made sure to include a news segment from the Make Good Decisions website that explained how the Lifeline Law was used to save a student from Marian University. 
One of the last projects Lekha worked on was creating a Prezi presentation focused on what REACH members did to promote Make Good Decisions and the Lifeline Law. This presentation was created to be shared with other schools so that they could see the work that REACH members did. This presentation also included additional project ideas to inspire other schools to host their own events.