BRETT'S STORY
Brett Ryan Finbloom (November 8, 1993-August 5, 2012)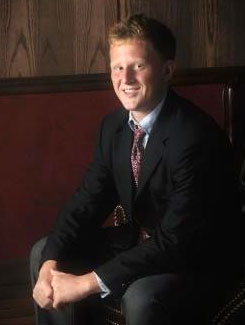 Where to begin with a life ended too soon? Brett graduated from a central Indiana high school in May 2012. He was excited to be attending college in the fall, but he never made it to the first day of classes. He was declared deceased on August 5, 2012 after 2 ½ days on life support.  Brett, age 18, became an organ donor who saved and enhanced lives. On August 2, 2012 Brett left his home at about 9:15pm. He told his parents that he was going to a friend's home. He and others were saying final goodbyes before embarking on their post-high school graduation plans. For most, including Brett, that meant going to college. Approximately 3 ½ hours after leaving his home, Norm and Dawn Finbloom were called by a local police officer and told that their son had been drinking. Then the police officer said the most dreaded words, "Your son's heart has stopped and paramedics are working on him. You need to get to the hospital as quickly as you can." Brett had made the bad decision to drink alcohol with his underage friends. He drank too much, too fast. He passed out. Friends at the party were afraid to call for help fearing that they would get in trouble. They did not know the serious dangers of binge drinking and they did not know about Indiana's Lifeline Law. Some teens have since said that passing out was even considered common for many. Also, the friends at the party did not know that it was very important to call for help immediately. If they had called 911 immediately, stayed and cooperated with first responders they would have had immunity from underage drinking and many related offenses pursuant to Indiana's Lifeline Law.  Most importantly they may have possibly saved their friend, Brett's, life. Instead they debated calling, cleaned up the party mess, most ran, and only two stayed. They did not fully cooperate with the first responders for fear of getting in trouble. Recognizing that their son and his friends made bad decisions, Norm and Dawn decided to empower other teens and their families with life-saving knowledge. Teaching about the warning signs of alcohol poisoning, the dangers of binge drinking, Indiana's Lifeline Law, and to basically Make Good Decisions. They don't want another family to lose their teenage child. Brett was smart, funny, caring, athletic, and full of life. He would never believe that he could die from simply drinking too much, too fast. He believed that he was strong and perhaps invincible. However, on this night, his body was unable to process the quantity of alcohol that he consumed. Now, Brett would want to tell you to be careful, to "Make Good Decisions" for yourself and for your friends and to "Make the 911 Call" for a friend in need.  He would say, "You don't know it's too much until the autopsy."
Brett was "everything and then some" to his parents, Norm and Dawn, who love him so very much. Now Brett is "Everyone's Lifeline."
JOHNNY'S STORY
Told by Stevan Stankovich, Friend & IYSA Speaker for Make Good Decisions.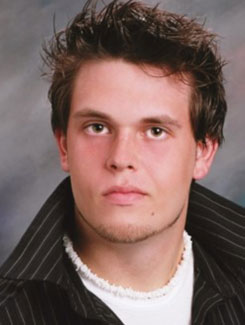 After nearly 11 years I finally had a chance to say goodbye to a friend. There is not a day that goes by that I do not wish I could redo that night. It was homecoming weekend of my freshman year of college. Being in a fraternity homecoming is a big deal and we had a long week of competitions of building floats, chants, and other fun activities. We came in second that week in the competitions and our football team had just won the homecoming game. Many of the brothers were looking to celebrate and have a good time. I was on safety duty that night at the house making sure no one did anything too stupid and were being safe. I was not drinking and was also studying for a calculus exam I had on that Monday. Later that night I had a fraternity brother, Johnny, who had been out celebrating come back to our fraternity house. He could barely walk straight and wanted to go back out and party a couple of our fraternity brothers said no and he had to sleep it off. They brought him up to our cold dorm to sleep it off. He was passing out and they asked me if I could watch over him and I said no problem. So we put his mattress down on the floor in front of my bed where I was studying so I could watch over him. I made sure he was on his side so he wouldn't throw up while he was passed out. At one point of the night he rolled off his mattress and I asked someone to help me put him back on his mattress. He did not react when we moved him and should have known something was wrong. However, since he was still breathing, I thought he was fine. Throughout the night I had to drive a few people back to the hotel but would always come back and check on Johnny. Finally, around 3AM I checked on Johnny a final time. He had this low rattling breathing and thought he would be fine, however know I know that was another warning sign. The next morning when I woke up and I tried to shake Johnny awake but he wasnt waking up. I froze not knowing what to do. It felt like time was standing still I saw another brother try to shake Johnny awake and then tried administering CPR that is when I left the room. The next thing I remember are being downstairs in the common room I hear sirens blaring and paramedics come rushing in. I help guide them upstairs but still thought Johnny would be fine. How wrong I was. About ten minutes later Johnny was being brought out the back of the house in a body bag. There is not a day that goes by that I don't wish I could have redone that night. The signs of alcohol poisoning were apparent and if I would have known then what I know now that senseless tragedy would have never happened and Johnny would still be with us. The reason I am posting this is two fold. One is to remember Johnny's memory and the second is to help prevent this from happening to anyone else. For others to learn the signs of alcohol poisoning, know the Indiana Lifeline Law, and make the promise to call or text 911 if you ever see the signs of alcohol poisoning. If I had known the signs of alcohol poisoning and called 911 Johnny would still be here today and probably be a scientist and have a family of his own. If you ever think someone has alcohol poisoning call 911 and save a life. Since that night I dealt with serious guilt and depression. I have gotten help and have since been able to continue forward. Life is too short not to continue living and trying to make a difference and other lives better. I have helped educate others about the signs of alcohol poisoning with some truly incredible and inspiring individuals, and have tried to shine a light on the issue to help save lives.
Finally, I will always miss Johnny and truly wish nothing more than to relive that night. Since that cannot happen, I will always carry Johnny in my heart and try to live my life right by him. Miss you brother and know you are in a better place.